Lockheed Martin Integrated Systems & Solutions
Jerry Lindfelt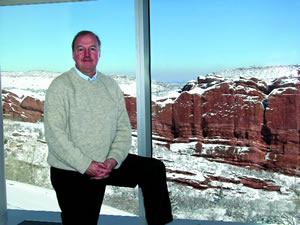 Vice President Surveillance & Reconnaissance Systems
Jerry Lindfelt is vice president of Lockheed Martin's Surveillance and Reconnaissance Systems, which focuses on the development of tactical intelligence, surveillance and reconnaissance (ISR) systems that integrate air, space and ground capabilities. Surveillance & Reconnaissance Systems is a line of business within Lockheed Martin's Integrated Systems & Solutions (IS&S) business area, which was formed last year to provide national security customers advanced, horizontally integrated systems that enhance their operational effectiveness.
Q: Tell us about Lockheed Martin's Surveillance & Reconnaissance Systems.
A: For decades, we have developed and maintained significant ISR elements for both tactical and national customers. We are also the original developer and patent-holder of Synthetic Aperture Radar (SAR) technology, and continue to develop tactical SAR sensors, foliage penetration SAR sensors and exploitation capabilities for key military transformation initiatives.
Q: Can you comment on the movement towards interoperability in the post-Operation Iraqi Freedom environment?
A: Some say this was the first truly joint war in which we saw, for example, the Air Force providing fire support to the Army on the move and more coordinated air battle planning among the services and coalition partners. While we are in the very early stages of interoperability across traditionally stove piped platforms and systems, I think this war affirmed the power of jointness and interoperability as means to enhance mission effects and capabilities. In response, our customers are focusing efforts in organizations such as the Joint Forces Command. Within the acquisition community, they are instituting a number of process changes, including requirements to view traditional platform-type acquisitions through an architectural lens to ensure their interoperability in the context of a warfighting system of systems. The objective in this increasingly "network-centric" environment is to shorten the timelines in moving data to knowledge to action, and we see several significant positive steps in that direction.
Q: How do you contribute to this "network-centric environment"?
A: We recognize the Future Force's vision: a seamless, network-centric environment where war fighters have real-time access to decision-quality information. The government wants network-centric information from all sources—then they must be able to exploit that information in real-time to carry out missions. What we often do is first to look at the need, and then determine the best value solution to meet that need. In doing that, we realize that we may not have the best subsystem to meet every requirement. That requires us to bring in government and commercial partners to provide the best value solution and to conduct rigorous analysis and testing to ensure the system will provide the desired capabilities.
Q: Are you currently working on any network-centric military programs from a tactical ISR perspective?
A: We are providing Multi-INT fusion expertise for the Army's Future Combat System. We are also on the industry team selected for the Distributed Common Ground System (DCGS) 10.2 Multi-INT upgrade, which will be the backbone of this transformational architecture. The 10.2 upgrade will transform the DCGS for the Air Force by integrating multiple intelligence systems into a single, worldwide network-centric ISR enterprise. This DCGS integrated backbone will also be used by the Navy, Army and Marine Corps.
Q: Technology is advancing at a phenomenal rate. How do you stay ahead of the curve in the tactical ISR arena?
A: Historically, it was very expensive to make incremental changes in technology, because in the past, system upgrades were driven by hardware improvements rather than software technology. Over time, we have embraced a more software-centric approach to technology. Yesterday, sensors and platforms drove missions, and acquisitions were largely focused on upgrades and replacements. Today, sensors and platforms are nodes on an increasingly interconnected battle space network. Recognizing that, we now focus on architecturally based solutions that provide capable, scalable frameworks for the military systems of the future.
Q: What do you see as key network-centric issues?
A: Ongoing threats in Afghanistan, Iraq and other arenas underscore the critical need for a persistent, responsive ISR presence. No doubt the military needs a clear, continuous picture of the battlefield and the ability to execute fast, informed tactical decisions. However, in a network-centric environment, services must be willing to share data. This evolution requires more than technological change—there must be a cultural change. Just as the military is adopting horizontal integration strategies to respond to these technology and cultural drivers, Lockheed Martin is changing to ensure we continue to help our customers address their significant challenges.