Jet Eyes in the Sky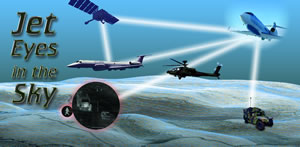 Aerial Common Sensor program, the next-generation manned aircraft reconnaissance, intelligence, surveillance and target-acquisition system for the Army and Navy, will give commanders a comprehensive picture of the battlefield in real-time.
By Patrick Chisholm
 Industry teams are gearing up for the final phase of the competition to supply the Aerial Common Sensor (ACS), the next-generation manned aircraft reconnaissance, intelligence, surveillance and target-acquisition (RISTA) system, for the Army and Navy.
ACS will be a critical component in helping commanders at multiple levels know where combatants, noncombatants, enemy forces and other entities are at all times. It will support forward-deployed forces by providing indications and warnings, situational awareness, battle management and precision targeting, enabling commanders to "see" the battlefield in real-time.
The system will include manned airborne collection platforms in the form of jet aircraft capable of deployment anywhere in the world within 72 hours. Multiple sensor suites will interface via wideband data links with ground-based facilities and satellite relays.
In 2002, following a competitive concept exploration preliminary design phase, the field of competitors for the ACS contract was narrowed to two: Lockheed Martin and Northrop Grumman. A contract award is expected in mid-April. Following that will be the system development and demonstration phase, to last until fiscal 2009. In fiscal 2007, the low-rate initial production phase is to commence.
The Army plans to begin fielding the system in fiscal 2009, and the Navy plans to begin in 2012. Once the contractor designs and develops the system, the government intends to produce the ACS and provide follow-on sustainment for the life of the system.
Certain potential subcontractors have been announced. Lockheed has chosen L-3 Communications Integrated Systems (Greenville, TX) to supply engineering and support, aircraft modification, integration and testing, communications and interoperability support. Lockheed is also partnering with Harris Corp. (Melbourne, FL) to develop communications functions, including a common data link (CDL) capability and an airborne satellite communications (SATCOM) capability, and with Raytheon on ensuring integration with the Distributed Common Ground System infrastructure backbone.
Northrop Grumman has selected L-3 Communications Systems-West (Salt Lake City) to provide CDL and SATCOM capability.
For the aircraft platform, Northrop Grumman has chosen the Gulfstream G450, while Lockheed Martin's platform of choice is the Embraer ERJ-145.
In addition to the Airborne Platform Subsystem, the ACS will consist of two other subsystems: the Airborne Mission Equipment Subsystem and Ground Exploitation Station Subsystem. The contract calls for maximizing the use of hardware and software commercial-off-the-shelf, government-off-the-shelf and non-developmental items. DoD engineers are to be embedded at contractor facilities to facilitate government/industry partnering.
Situational Awareness
The ACS will replace the Army's Guardrail Common Sensor (GRCS) and Airborne Reconnaissance Low (ARL), the existing airborne RISTA systems. ACS will build on and combine the capabilities of those systems to achieve more deployability, tailorability and scalability. It is the only system, existing or planned, that meets the Army's requirement for timely, multi-intelligence precision geolocation, according to the Association for the U.S. Army.
The Navy recently decided to replace its EP-3 surveillance aircraft with the ACS.
"Essentially, the ACS sensors are going to be based on a jet aircraft platform, and that capability gives it extended range beyond what currently exists for Guardrail and ARL, as well as provide it with endurance—more time on station to allow it to process more information in a specific area," said Lieutenant Colonel Steven Drake, the ACS product manager, based at Fort Monmouth, NJ. "The sensors on board will be increased in their capability as well; the idea is that sensor suite will be a full complement of capabilities of both the ARL and the Guardrail combined onto one aerial platform."
The missions of ACS will include: wide area and focused electronic surveillance; battlefield visualization; situation and target development; dynamic updates to the ground and electronic order of battles; and cross-cueing of the sensor suites.
Cross-cueing will allow the onboard sensors to cue one another. For example, Drake explained, "When you get a signals intelligence hit of interest, you can cross-cue the electro-optics and infrared sensors and take a look in the optical realm in the same area of interest in order to gather any additional information about the target."
ACS will enhance mission planning, force protection, force maneuvers, targeting and battle damage assessment. It also will verify the accuracy at extended ranges of long-range artillery and rockets, in addition to enhancing enemy detection, threat identification and the tracking of targets.
The system will support a full range of missions, including mid- and high-intensity conflicts. Currently the Army's focus is providing intelligence information for tactical units. ACS also could conceivably be used for host-nation assistance, anti-terrorism, civil support, peacekeeping operations, noncombatant evacuation operations and disaster relief.
ACS will be capable of split-based operations without a forward deployed ground station, according to an ACS concept of operations paper. The SATCOM relay will enable sensor data to be processed through the continental United States.
It will be used with mobile ground stations linked with a piloted aircraft or unmanned aerial vehicles (UAVs). The ground and airborne subsystems will also integrate with UAVs in order to enhance the real-time utilization of image intelligence during combat operations. For example, the piloted plane may cue and possibly control UAVs in order to provide close-in confirmation of targets.
In addition to interoperability with UAVs, the ACS will have interoperability with other sensor systems, such as joint airborne and ground intelligence platforms.
The system will be assigned to the Military Intelligence Battalion (Aerial Exploitation) of the Corps and Echelon Above Corps Military Intelligence Brigades. Commanders at all echelons will be able to input their unique mission requirements and receive ACS data through the Joint Tactical Terminal.
"One of the things that this system really brings is a small footprint—allowing for the minimum amount of equipment and soldiers forward," remarked Richard Sciria, ACS deputy product manager. "Much of the reconnaissance and other preparatory work can be done from a sanctuary-type location. It makes for early entry and a minimum forward footprint."
ACS as envisioned will be capable of beginning operations immediately upon arriving in theater, using aircraft-to-satellite relays, linking with the ground processing facility located at the main operating base. ACS also will be able to conduct operations while en route to the destination.
The ACS will be designed to detect airborne targets that are masked from conventional ground-based air defense radars. Such masking capabilities include smoke, camouflage decoys, corner reflectors, radar-absorbent materials and terrain masking. To overcome these obstacles, ACS imagery sensors will use a combination of conventional, infrared, hyper-spectral and radar sensors.
Stronger "Legs"
The Army plans to acquire 38 aircraft for the ACS, while the Navy intends to buy 19. "We're going to procure five systems of seven aircraft each. And those five systems will be deployed through five aerial exploitation battalions," indicated Drake.
The Army ACS system consists of seven fully configured aircraft, while the Navy considers one fully configured aircraft to be a system.
The airborne platform will be based on an existing commercial jet aircraft design about the size of a large business-class jet, in order to achieve a large enough capacity to accommodate the payload, as well as to ensure the requisite speed and altitude. Guardrail and ARL, by contrast, use slower, smaller propeller-driven RC-7B and RC-12 tactical reconnaissance aircraft.
"The legs will allow it to deploy from a non-hostile location so we can deploy into an area, refuel and proceed to move to its orbit so that it can provide the data necessary," said Drake. "The idea is the legs get it to the theater, and once in the theater, it can then operate at its location of interest, which is going to be standoff from where the hostilities are taking place. And the capability with jet aircraft allows us to go into theaters early and provide ground forces with intel data prior to their arrival so they can update their operational plan."
The aircraft is to be capable of flying anywhere in the world within 72 hours and operate at altitudes of up to 45,000 feet to help ensure survivability and maximum sensor ranges. The multiple-aircraft system is to have the endurance to enable round-the-clock surveillance of the target area.
William Adams, vice president of airborne surveillance systems at Northrop Grumman Electronic Systems, said one reason his company chose the amply sized Gulfstream G450 is that new sensors and payloads will very likely be added during the life of the ACS. "So we chose an airplane that we believe will fit that bill now and in the future without causing the customer to spend a lot of money upgrading the platform. One of the lessons learned on Guardrail was exactly that; over time the platform needed to be reengineered and modified because of new requirements. But the G450 already meets the objective requirements established for the platform in the ACS RFP, so there is very little modification that will ever be required, leaving great latitude for any future growth.
"Gulfstream's U.S.-manufactured jets have proven themselves repeatedly in meeting the demanding requirements of special electronic mission aircraft, cruising at higher altitudes and remaining on station longer than any comparable aircraft." Adams added that the Gulfstream platform is already in the inventory in all of the military services. "There're additional cost savings because the logistics infrastructure is already in place within DoD and in the commercial sector. Military pilots already have been certified for them, mechanics know them, and spare parts and port facilities for this plane are available worldwide."
The Lockheed Martin team examined more than 150 potential air platforms before narrowing the choice down to the Embraer ERJ 145, said Wes Colburn, deputy vice president for the company's Intelligence, Surveillance and Reconnaissance Systems unit. "We looked at everything from how much payload it can carry to what its legs were, to its speed and altitude. We chose a regional jet over a business jet because it carries a lot more volume, has long legs and operates in a very cost-effective manner. Worldwide logistics support was also one of the drivers.
"By choosing the Embraer ERJ 145, we're leveraging commercial and existing systems," Colburn said. "There are about 600 ERJs currently flying; in fact, if you fly in a regional jet with a U.S. airliner, chances are it's an ERJ. And as the manufacturer upgrades its commercial fleet, the Army and Navy can benefit from that without spending money on their own."
Embraer, a Brazilian company, is one of only two regional jet manufacturers in the world, the other being Canada-based Bombardier. "Embraer is opening up a plant in Jacksonville, FL, so the plane will be produced in America by Americans, for Americans. And 70 percent of its parts are already made in the United States," Colburn said.
Sensor Suite Array
Within the planes, payloads will consist of a mission-tailorable sensor suite containing instruments enabling multi-intelligence collection, including signals intelligence (SIGINT), imagery intelligence (IMINT), measurement and signatures intelligence (MASINT) and moving-target indicator (MTI) radar. This multi-intelligence capability will be a large improvement upon Guardrail and ARL, each of which has only a limited intelligence capability.
Passive imaging payloads are to include daylight imaging, thermal infrared and wide area thermal sensors. Active imaging payloads will include synthetic aperture radar and MTI radar functions.
The ground-processing element will be the Distributed Common Ground Station-Army (DCGS-A), consisting of transmit/receive devices and data links to enable the receiving, processing, storing, correlating, exploiting and disseminating of intelligence feeds from multiple sources. The DCGS program aims to incorporate common standards and formats for intelligence processing, so that they are compatible with all of the military services.
"The new concept for ground stations is a joint, tri-service agreement mandated by DoD that we will develop to a specific standard," observed Drake. "That standard is currently a contract being led by the Air Force. The idea is that the Army, Navy and Air Force, as they develop their common ground stations, will develop to that standard, allowing interoperability. For example, ACS should be able to not only link into the DCGS-Army, but also a DCGS-N or DCGS-AF depending on what's deployed on the ground, so that we're not tied to any specific service ground station. We'll be interoperable, and once the information is passed to those ground stations, that information then can be passed from service to service as required in order to execute the battle."
Charles Maraldo, the ACS assistant product manager, explained that systems like Guardrail have their own dedicated ground stations. "A lot of these ground stations were unique, they didn't interoperate, and had to be independently developed. So all of the services are now cooperating on this DCGS, which maximizes interoperability and commonality. The idea is to maximize investments, bang for the buck, and interoperability among the different ground stations."
The ground stations' SATCOM relay will provide more bandwidth than the airborne SATCOM relay, enabling even greater remote processing of data. In the absence of a ground station, ACS operators provide an "on board" capability for processing, exploitation and dissemination.
The Airborne Mission Equipment Subsystem consists of modular and reconfigurable sensor payloads and processors. The SIGINT equipment will be based on the Joint SIGINT Avionics Family, and the IMINT and MASINT equipment will be based on other GOTS or COTS designs.
The data will be transmitted to and from the ground processing facility via the CDL, as well as to those using the Joint Tactical Terminal via the Intelligence Broadcast Service and Global Broadcast Service.