L-3 Communication Systems - West
Bruce Carmichael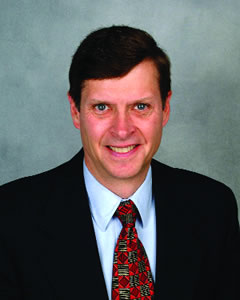 Vice President of Air Force Programs
Communication Systems—West (CS-West), a division of L-3 Communications, has been building wideband, real-time communication systems for over 45 years. Located predominantly in Salt Lake City, UT, CS-West serves the ISR and satellite communications marketplace and primarily focuses on the design, development, integration and support of real-time communication systems in support of surveillance and reconnaissance programs. They are also involved in high-data-rate satellite communications, battlefield information dissemination, weapons targeting data links and space operations support.
Bruce Carmichael is a retired Air Force officer with wide-ranging operational, command, staff and international experience. He holds a BA Degree from Colby College, Waterville, ME, and a MPA from Golden Gate University, San Francisco, CA.
Q: The ISR market has really gotten a lot of press lately—how does CS-West fit in?
A: In the past our products were quietly integrated into the military's platforms without much press or fanfare although we have contributed to a variety of operations, from the U-2 Cold War missions, to the operations in Desert Shield and Desert Storm and in the current operations in the Middle East. Our products deliver data at very high-rates, from tens to many hundreds of megabits per second and at line-of-sight and beyond line-of-sight distances. We provided the U-2 with its wideband data transmission capability throughout the aircraft's career. The U-2's contributions in recent conflicts attest to the platform's continuing key role in providing multi-int reconnaissance data in near-real time. Our Integrated Communications System (ICS) on the Global Hawk combines six different links in an integrated communications package ensuring continuous worldwide connectivity with the aircraft and its sensors during all phases of its mission. In addition, our airborne SATCOM package allows the Predator UAV to perform its reconnaissance and strike mission at beyond line-of-sight distances.
Q: How have the military operations associated with the war on terrorism changed your business?     
A: We see a heavy and undiminished demand for real-time sensor data and our customers are demanding shorter lead times and increased field support at a moment's notice. With today's "new" emerging ISR marketplace, we've had to increase the bandwidth, covertness, and networking capabilities of our links. In addition, the concept of "theater reachback" has become a reality through the use of high-capacity airborne SATCOM and satellite relay capabilities—both of which we have provided in past and current conflicts. With the highly mobile and expeditionary nature of today's warfare, the availability of high capacity communications capabilities from the start of a conflict is essential to the very precise and nearly instantaneous target prosecution sought by today's combatant commanders.
Q: How have you adapted your company's products and services to that changing market?
A: We continue to push the limits of communications technology, having developed and tested the highly-programmable, covert and jam-resistant Airborne Information Transmission (ABIT) air-to-air relay system. This technology will be used as part of the Tactical Airborne Reconnaissance Systems (TARS) for the F-16, Dual Data Link-2 (DDL-2) the next-generation data link system for the U-2, and in Multi-Platform CDL (MP-CDL) which provides high capacity, multiple-path networked communications. At the same time we've also developed the Tactical Common Data Link (TCDL) for use on a large variety of intelligence and surveillance platforms, including UAVs.
Q: What do you see as the key issues for the future?
A: We intend to leverage our experience in secure wideband data links to provide networked capabilities that will seamlessly tie the various levels of command and enable broad access to wide varieties of data from numerous and diverse sources, both in and out of theater. We need to do this in a manner that recognizes the investments made in the past and ensures that compatibility is maintained with legacy systems as new systems are brought into operation.
To support this effort, software development and reuse is a key strategic issue. We are focused on software programmability for communication systems and networking interfaces. We want to get to the point where we have one or two basic hardware platforms for software programmable communication waveforms and one or two platforms for any user's networking needs. Our modem technology is well on its way to being fully programmable so that the same platform can be scaled from a legacy ISR waveform to a SATCOM Bandwidth Efficient Waveform to a wideband, covert waveform. For networking, we can use the same hardware for ATM and/or ethernet interfaces thus delivering IP packets to our customers regardless of the transport media.
Our users are demanding more all the time. In today's market we need to continue to develop creative solutions to new intelligence, surveillance and reconnaissance (ISR) requirements. We continue to strive to offer affordable and highly capable products to a rapidly changing environment.