Air Force Futurists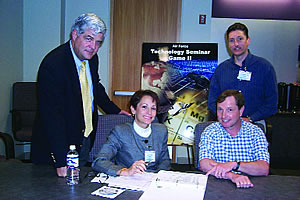 Fight the Wars of Tomorrow—Today
By Second Lieutenant Elaine Hunnicutt
During the Air Force Technology Seminar Game II (TSG II), more than 35 scientists, technologists, operators and long-range planners joined together to fight tomorrow's wars, today. 
TSG II is hosted by the Air Force Research Laboratory (AFRL) and consists of four seminars and a symposium held throughout 2003. Each seminar serves as a building block for the next and all results will be compiled and discussed during the symposium in July.
"We encourage 'Star Wars'-like thinking of our participants—to go beyond today's traditional warfare environment and delve into tomorrow's unforeseen threats so that the Air Force can better predict and prepare warfighters for the future," said organizer Debra Haley, associate director Investment Strategy, AFRL Plans and Programs Directorate.
"It is important to get the participants in this mindset, so that we can tap their imaginations," said Bob Deasy of Booz-Allen Hamilton, on contract to support TSG II.
It is important for our nation to think long range because the nature of our adversary is changing. "The adversary of the future may not belong to a country with a traditional army or geographic boundaries. It could be an individual with ideological differences and the potential for powerful, technology enhanced capabilities," said Deasy.
There is a great deal of information available on the Internet and in other forums. Once the basic research is done, the potential to capitalize on that information is often accessible. "We must assume that many capabilities we have or are working on can be gained by our adversaries too," Deasy said.
The four main objectives of TSG II are:
•        Promoting collaboration among planners including: scientists, engineers and warfighters.
•        Identifing and exploring technological opportunities, concepts and systems-of-systems. System-of-system refers to the concept that many of the capabilities are comprised of multiple systems (i.e. AWACS currently involves sophisticated RADAR, computer processing, communication, human-in-the-loop and an air-breathing aircraft based platform).
•        Understanding the co-dependencies of long-range planning. Co-dependencies are the near-term funding advocacy and capabilities based planning necessary from the operations and other interested communities for long-term research and development investment.
•        Providing insights for research investment long-range planning.
One area of interest discussed during the seminars has been the crossover between nanotechnology and biotechnology. "These two areas of discovery promise individual and combined capabilities that are powerful and revolutionary. Michael Creighton's Prey gives a preview, in the extreme, of the potential," Deasy said. This form of warfare could force military forces to face an invisible enemy that is as mobile as the severe acute respiratory syndrome, or SARS, as it travels from one victim to the next.
Participants are encouraged to put on their "thinking caps" and be creative. "The fact is, if we can think of it, so can our enemies, and we have to get there first," said Deasy. The sessions kickoff with world-renowned futurists, like Dr. Bill Halal from George Washington University, Dick Szafranski from Toffler and Associates, Dennis Bushnell from NASA Langley Research Center and Dr. David Herrelko, retired Air Force brigadier general, from the University of Dayton. These futurists help paint a picture of the future and potential technological capabilities.
TSG II creates an environment where planners, developers and users create a shared vision of military challenges and science and technology-enabled opportunities of the future.
"Essentially, operators and developers discuss the capabilities required in the year 2027. These capabilities help the science and technology community create possible solutions," Deasy said.
At the first meeting, TSG II Future Environment Seminar, held January 8 to 10 at Wright-Patterson Air Force Base, OH, the participants focused on the global environment and examined global trends 25 years into the future. They identified those trends that may impact operations, and therefore, the science and technology investment strategy.
During this seminar approximately 170 trends were identified with the potential to have a significant impact on national security. Synthesized into 12 overarching areas, grouped into three broad categories, these trends were used to structure the Future Capabilities Seminar.
The first category, global outlook, includes trends in areas such as energy, economics and cultural demographics. The second category, information exploitation, explored the way data is collected and used. The final category, revolutionary technologies, focused on advances in biological, nano-, materials and propulsion technologies.
At the TSG II Future Capabilities Seminar held February 11 to 13, in McLean, VA, participants identified more than 40 operational capabilities driven by the trends identified in the Future Environments Seminar. These were organized into support and strike functions.
The support capabilities category included defense tools, weapon systems, alternative energy sources, improved logistics and better command, control, communications, computer, intelligence, surveillance and reconnaissance (C4ISR) systems.
The strike capabilities category included capabilities that can support both offense and defense. In March, at the Future Technology Seminar, participants identified technology solutions that enabled the required capabilities of 2027.
The results of these three meetings and the final meeting, TSG II Technology Examination Seminar, to be held in May, in McLean, will be compiled and presented to Air Force leadership during the symposium July 18, also held in McLean.
"The knowledge gained during TSG II will increase our foresight and better enable the investment planning for tomorrow's scientific and technological programs," Haley said.
Those interested in attending the TSG II Technology Symposium, July 18 in Virginia, should contact Sharon Johnson at johnson_sharon@bah.com for registration information.