Missile Defense: Long Way in a Short Time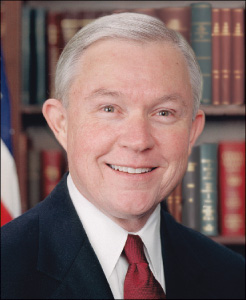 The most important mission for the MDA today is to field and improve the current generation of missile defense capabilities.
By Senator Jeff Sessions (R-AL)
On September 30, 2004, the commanding officer of the guided missile destroyer, USS Curtis Wilbur, steaming in the Sea of Japan, broadcast the following message to higher headquarters: "Aegis BMD on Station." And so began the first operational missile defense mission for the U.S. Navy. While the Curtis Wilbur wasn't yet armed to intercept a ballistic missile, it would be available to provide surveillance and tracking information in support of the long-range ground-based interceptor (GBI) missiles being fielded at Fort Greely, AK, and Vandenberg Air Force Base, CA.
At about the same time, with little or no fanfare, the Department of Defense began its "shakedown" or "early trials" of the nascent Ground-based Midcourse Defense (GMD) system that is being deployed as part of the Pacific Missile Defense Test bed. There are now eight missiles in place that can be used to test the GMD system and exercise the crews manning those systems. But more important, these same missiles stand ready to serve as an emergency defensive capability­­—an historic first step in finally making ballistic missile defense of the U.S. homeland a reality.
To be sure, this defensive capability is limited—a "thin line," as the commander of U.S. Strategic Command calls it. But the commander of U.S. Strategic Command, the director of the Missile Defense Agency (MDA), the undersecretary of defense for acquisition, the Pentagon's director for operational test and evaluation, and the independent review team established to investigate recent GMD test difficulties all concur that the GMD test bed provides some capability against a limited North Korean ballistic missile attack. And some capability is better than none at all.
While there is much yet to be done, we have come a long way in a short amount of time. President Bush and the MDA should be commended for accomplishing a technological and engineering feat that many experts rightly compare to the development and fielding of our country's first intercontinental ballistic missiles in the late 1950s.
In fact, there are many similarities between the two programs that bear mentioning:
Both GMD and the first ICBM programs were accorded the highest national security priority based on the threat of their day;
Both programs were run with a considerable amount of concurrency or parallel development, which was risky yet necessary given the urgency of the threat;
Both programs relied on developmental prototypes for early deployment, with the expectation that continued testing would improve subsequent operational missiles;
Both programs ran into reliability problems attributable to quality control and systems engineering shortfalls—not fundamental design flaws;
Both programs began without a specific timetable for transitioning the weapon system from the developer to the operational commands; and
Both programs suffered through criticism by congressional and public critics of the program who thought the system required more testing or was too costly.
What brought the ICBM program through its initial difficulties is what will see the GMD system through its early problems: the priority afforded the program by the president; the strong leadership of Lieutenant General Henry A. Obering III and the MDA team; and continued testing, testing, and—dare I say it again—more testing.
Congressional Support
There is strong support for missile defense within Congress. There are two provisions in the fiscal year 2006 National Defense Authorization Act now before the Senate relating to missile defense that suggest Congress has moved beyond the traditional missile defense debates of the past and is now paying increasing attention to providing actual defensive capabilities.
The first provision permits the MDA to use research and development funds to develop and field ballistic missile defense capabilities. A second provision requires DoD to plan and conduct tests that evaluate the operational effectiveness of each block capability of the missile defense system. Similarly, both the House and Senate have recommended a reallocation of missile defense funding to focus on testing and fielding of near-term missile defense capabilities.
This is not to suggest there are no missile defense critics in the Congress. But this opposition mostly concerns the level of funding for missile defense activities, given other pressing national security problems such as terrorism, homeland security and "loose nukes" in the former Soviet Union, as well as the pace with which DoD is fielding missile defense capabilities prior to completing full operational test and evaluation.
My response to the first concern is that this is really a false choice: We need to fund both missile defense and those other important national security activities, and the Congress has done so. For example, the President requested, and Congress approved, almost $50 billion for homeland security for fiscal 2006, while the Pentagon is authorized $11 billion for combating terrorism.
Likewise, the Cooperative Threat Reduction (CTR) program, which is designed to assist nations of the former Soviet Union to dismantle their nuclear weapons, is fully authorized at $415 million for fiscal 2006, while some $400 million of past CTR funds have yet to be expended. In contrast, the Bush administration itself has scaled back its proposed funding for missile defense by $5 billion over the next six years.
With respect to fielding ground-based interceptors before full and conclusive testing has been completed, it is my belief that, like our early ICBM programs, the threat warrants immediate deployment of developmental prototypes that can be used in an emergency—with the expectation that more reliable, operational systems will follow. While there is the risk that deployed systems may require retrofits in the future, the findings of the independent review team provide confidence that this would not entail a costly system redesign.
These are not unreasonable issues to debate in Congress; and reasonable people will disagree on the level of commitment to missile defenses based on their assessment of the threat. For me, it is enough to know that the commander of U.S. Strategic Command has testified, "We have a realistic threat here. We have an imperative." Further, the U.S. intelligence community assesses that North Korea is ready to resume flight testing of the Taepo-Dong 2 ballistic missile, which is capable of reaching the United States with a nuclear warhead; and that Iran will have the capability to develop an ICBM by 2015.
As we continue to develop and deploy defenses against ballistic missiles of all ranges, it is important that we work with our allies and friends as efficiently as possible to obtain an effective and integrated multinational missile defense capability. In strategic terms, potential adversaries will seek ballistic missiles armed with weapons of mass destruction to deter the United States and its allies from responding to regional aggression; in fact, allies could be threatened even if they were not directly involved in the conflict—the consequence of this could be to limit U.S. and coalition freedom of action unless the ballistic missile threat is countered.
Additionally, cooperation, in the form of assuring interoperability between missile defense forces of different nations, would provide a coalition capability that is greater than the sum of its parts. It is not hard to imagine, for example, a radar deployed in an allied country supporting the defense of the U.S. homeland against long-range ballistic missiles threats; likewise, a mobile U.S. missile defense system could be available to provide protection for coalition partners against shorter-range threats.
At the risk of stating the obvious, missile defense cooperation between the United States and other nations works best when there is a shared determination to address the ballistic missile threat by developing and fielding real capabilities. For example, Italy and Germany are working with the United States to develop and field the Medium Extended Air Defense System (MEADS). Japan and the United States plan to work together to field sea-based ballistic missile defenses, and the United States plans to upgrade Early Warning Radars in the United Kingdom and Greenland that will provide tracking information of potential Middle Eastern threats.
Future Priorities
Given the likelihood of funding constraints in the future, we need to consider carefully our priorities for missile defense. At the outset of his first term, President Bush directed his administration to examine the full range of available technologies for missile defense. It became the policy of the administration to "develop and deploy, at the earliest possible date, ballistic missile defenses drawing on the best technologies available."
Unencumbered by the ABM Treaty, the MDA was able to make considerable progress toward that end. So much progress, in fact, that by December 2002, the president could direct the deployment of an initial set of missile defense capabilities in 2004 and 2005. Those capabilities included ground-based interceptors, sea-based interceptors, additional Patriot (PAC-3) units, and sensors based on land, sea and in space. While efforts would continue to improve these capabilities as well as develop additional capabilities necessary to deal with the evolving threat, there was now a clear set of initial priorities.
It is important to keep these priorities in mind and not become distracted by the search for the next best technology or the need to address all potential threat scenarios at once. We have made the initial developmental breakthroughs; it is now time to field real capabilities. This is what the warfighters are telling us. As Admiral Fallon, commander of U.S. Pacific Command, testified before Congress earlier this year, "the production inventory of Patriot PAC-3s and SM-3s must pace the increasing threat."
We will have to be mindful, however, of ballistic missile threats on the horizon; which is why we must continue to explore, develop and deploy new technologies and new basing modes for missile defense--and perhaps find ways to reduce substantially the per shot cost of missile defense.
To conclude, the most important mission for the MDA today is to field and improve the effectiveness of the current generation of missile defense capabilities, thus turning that "thin line" of defense into a robust defensive capability. To do so is to provide a measure of protection for the United States while sending a strong and clear message to potential adversaries that the United States and its allies will not be intimidated by ballistic missile threats in the future. In doing so, perhaps we might also dissuade countries from developing such capabilities at the outset.
Sessions is chairman of the Strategic Forces Subcommittee of the Senate Armed Services Committee.